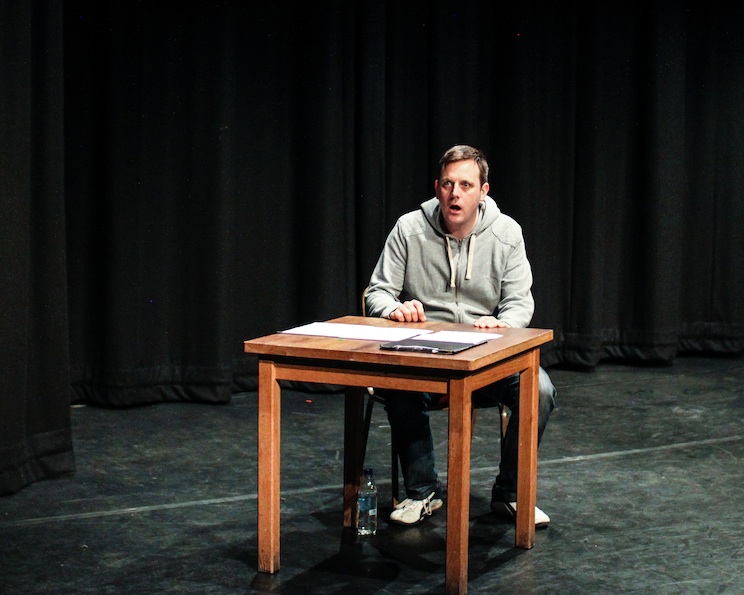 12th May 2014 – Steve Larkin
The end of my first day is approaching and it has been fascinating and illuminating.
I am sat now in a dance studio in front of a mirror looking at the tired face of a man clinging to the last vestiges of youth. That's me in case you were wandering!
Throughout the day the mirror has reflected back a woman who got younger as time went on, a woman whose back story got more and more detailed, whose motivations became clearer and whose voice lowered and body loosened up somewhat. She has retained all the things that I find loathsome about her but has gained some more human characteristics.
I am looking up at a 3D character now, she is more well-rounded, she's smiling vacantly at me. She needs to loose that beer belly and find a better moisturiser to convince me further mind!
Underconstruction Dramaturg Lizzy McBain honed in on her, and I'm glad she did as she was the one character that didn't sit very comfortably with me. With more work she will be a convincing human being – the character that is, not Lizzy, I have every reason to believe Lizzy deserves human status without a deep drive to find her intentions. I also have every reason to believe that I am in safe hands and that Lizzy will help me to vastly improve this show (from it's 4 1/2 star base people – 4 and 1/2 star ! – what are you waiting for? A 4 3/4 to 5 star show is imminent on the 23rd of May for just a fiver! That's a pound a star ).
If you haven't got a clue what I am talking about I'll fill you in. I had an idea for a new show last year and did 15/20 minutes of it at Underconstruction Theatre's regular Scratch Night. This gave me some confidence and direction to take it further and I completed a storytelling version of it whilst on a Canadian Fringe tour last year and got some good press – a four and a half star review in the main paper in Victoria (which incidentally has the strangest name The Victoria Times Colonist – not Columnist as people keep insisting I mean!). The show is called TES and it is a 21st century re-imagining of Tess of the D'Urbervilles. I'm in love with this new world and applied for this residency to develop the show into a proper all whistles and bells and generators and helicopters and grimecore and sirens theatre show with an urban soundscape. I managed to ensnare Chris Full into the project.
Chris is brimming with knowledge – he's worked with huge West End shows and his role as sound designer is extremely involved and an integral part of the creative process and he is teaching me so much and confirming things that I have never had anyone to ask about before. We are on the same as yet blank page when it comes to what we want to create. We have little time and a huge task list but a theatre that wants to and can accommodate our plan.
I have learnt so much today and have felt properly looked after. Josh Tomalin the technical director at OFS took a great deal of interest in the creative direction. As a travelling fringe artist it can be one of the most fraught lottery experiences of the tour dealing with a technician – there are some good ones out there and there are some bad ones and there are some that just seem like they hate you from the start. Josh seemed like he didn't hate me and I warmed to him immediately.
Anna Mundy got motoring on the marketing.
All systems go, all hands on deck, plans hatched, big pile of work ahead, the tap dancers are kicking me out!
Theatre Residencies where have you been all my life?!
I need you, I want you, I love you.